Add a header to begin generating the table of contents
Building a Better Victoria
Melbourne is Australia's second-largest city in terms of population – but probably not for much longer, with many analysts predicting the city to outpace Sydney in the next decade or so.
Melbourne continues to take a top rank as one of the world's most liveable cities. It's not hard to see why, given it is the sporting capital of the nation, as well as a major destination for great food, café culture, fashion, and art.
On top of its many other drawcards, Melbourne offers world-leading healthcare, education, amenity and infrastructure along with a leading economy.
A truly global city, many choose to invest in Melbourne as an essential property location for their portfolio.
More than $100 billion worth of new roads, rail lines, hospitals, skyscrapers, prisons, wind farms, and other infrastructure is being built or planned in Victoria as the state's surge in the delivery of significant projects gathers pace.
A spike in investment by governments and businesses in new projects in Victoria has pushed the value of what is being built or planned to a new high-water mark of $106.2 billion.
Victoria's infrastructure boom outpaced all other states in the three months to June as the list of projects in development or under consideration grew by $18.5 billion.
The Victorian Government is investing $57 billion in major infrastructure and smart technology projects underway to build more capacity on existing networks and fund improvements across the road, rail, and port.
Modern and reliable transport will be vital to maintaining our prosperity, upkeep high levels of property investments and world-famous liveability as our population continues to grow rapidly and the economy changes.
Melbourne Airport Rail Link
Among the new projects is the long-proposed rail line to Melbourne Airport. This project has received a $5 billion commitment from both governments, and the $15.8 billion North East Link Victorians are set to benefit from the long-awaited Melbourne Airport Rail Link. The Victorian and Federal governments are formally signing off on the project on 14 March 2019.
The missing link will connect communities and give Victorians choice – delivering a new super-hub at Sunshine, reducing congestion on the freeway to the airport and unlocking capacity for the growing population in Melbourne's north-west.
The business case will be delivered by 2020. It will assess station and procurement options, value capture and creation opportunities and economic analysis.
A reference group will also be established to consult with the community, industry, and local government representatives.
The Victorian and Federal governments have committed up to $5 billion each to deliver the missing link. The total project cost is estimated to be in the range of $8 billion to $13 billion.
Construction will take up to nine years and is due to commence in 2022. The toll road, to which the Turnbull government has committed $1.75 billion.
Cranbourne Line Duplication
Doubling services on the Cranbourne line with trains every 10 minutes during peak
Eight kilometres of single track from Dandenong to Cranbourne would be duplicated as part of the project.
This would remove the bottlenecks that cause delays and allow the number of train services to be doubled during peak times, delivering trains every ten minutes along the whole Cranbourne line.
Tracks would also be upgraded around Caulfield station, where the Frankston line splits off from the Cranbourne-Pakenham line, and around Dandenong station where the Cranbourne and Pakenham lines separate.
This would help move trains more quickly through these stations, cutting delays and getting people home sooner.
The project would create more than 1,000 jobs. Detailed planning and procurement would start next year, with construction to begin in 2021 and finish by 2023.
Metro Tunnel
Untangling the City Loop so more trains can run more often across Melbourne.
The Metro Tunnel is Melbourne's biggest rail project since the City Loop was built in the 1970s. It involves building twin rail tunnels and five underground stations from North Melbourne through to the Domain precinct, south of the CBD.
New underground walkways will connect Town Hall Station through to Flinders Street Station and State Library Station to Melbourne Central Station. This will allow seamless connections for commuters between City Loop and Metro Tunnel services.
The Metro Tunnel will also provide access to the University of Melbourne and health facilities such as the Royal Melbourne Hospital, the Royal Women's Hospital, and the Victorian Comprehensive Cancer Centre.
The project's benefits will be far-reaching – by taking three of the busiest train lines (Cranbourne/Pakenham and Sunbury lines) through a new tunnel under the city, freeing up space in the City Loop to run more trains in and out of the suburbs.
New, modern technology will allow trains to run every two to three minutes, beginning the transformation into a 'turn up and go' rail system for Melbourne.
Streamlining Hoddle Street
Improving traffic flow and access for drivers, cyclists, and pedestrians.
The Streamlining Hoddle Street project will improve the travel experience for the 330,000 people who travel along and across this busy road each day.
Four significant intersections will be upgraded to help traffic flow more smoothly through Hoddle Street and Punt Road.
New pedestrian paths and crossings will be built, as well as dedicated cycle lanes at Swan Street to improve access and safety for cyclists and pedestrians. There will also be dedicated bus and tram lanes and bus priority at traffic lights.
Work started on the Streamlining Hoddle Street project in early 2018, with construction expected to be completed by the end of 2019.
Suburban Rail Loop
A rail link connecting Melbourne's middle suburbs
Suburban Rail Loop is a new underground rail link connecting Melbourne's central suburbs.
It will include new stations and connect significant railway lines from the Frankston line to the Werribee line via Melbourne Airport.
Suburban Rail Loop will connect Melbourne's middle suburbs to priority growth precincts and link all Victorians to major health, education and employment centers.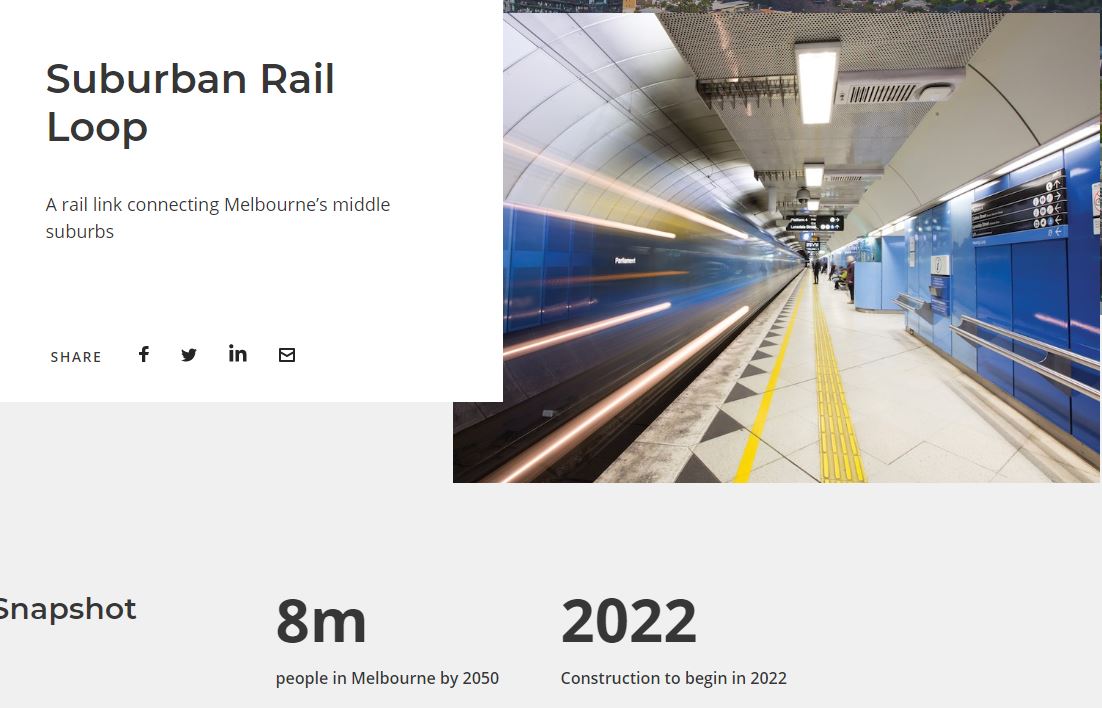 Suburban Roads Upgrade
Upgrading priority roads in Melbourne's outer west, north, and south-eastern suburbs
The Suburban Roads Upgrade is a $4 billion investment that will improve 20 priority roads across Melbourne's outer west, north, and south-eastern suburbs.
Western Roads Upgrade
Work is underway on the $1.8 billion projects that will transform eight priority roads in Melbourne's western suburbs.
Funding will also be put towards improvements and maintenance for more than 260 kilometres of road between Footscray and Werribee for the next 20 years.
South Eastern Roads Upgrade
Planning is underway for the south-east, that will add extra lanes to:
Healesville-Koo Wee Rup Road, Pakenham South between Princes Freeway and Manks Road
Lathams Road, Seaford, between Oliphant Way and Dandenong-Frankston Road
Hallam North Road, Endeavour Hills, between Heatherton Road and James Cook Drive
Narre Warren-Cranbourne Road, Cranbourne, between Thompsons Road and the South Gippsland Highway
Pound Road West, Dandenong South, between Abbotts Road and South Gippsland Highway, with a new bridge over the Cranbourne train line.
Road safety and surface improvements will be made along Golf Links and Grant Roads, and the roundabout upgraded at Golf Links, Grant, Warrandyte and Baxter-Tooradin Roads in Langwarrin South.
Revitalizing Melbourne Landmark – Flinders Street Station
The Victorian Government will invest $100 million to revitalise Flinders Street Station and make the station more functional for passengers.
In mid-February 2015, Premier Daniel Andrews and Minister for Public Transport Jacinta Allan announced that funds would be provided to undertake urgent refurbishment works and upgrade station platforms, entrances, toilets, and information displays.
Without urgent heritage works, parts of the station will become unsafe, unusable, and eventually unsalvageable.
The Victorian Government's $100 million investment will fund urgent works to repair the Administration Building's crumbling exterior and clock tower, and make the building watertight.
Works will also help commuters and tourists who use the station every day. Platforms and entrances will be upgraded to ease passenger congestion at peak times and allow people to move through the station faster.
Toilets will be fixed, dingy and under-utilized areas will be cleaned up and well lit, and new information displays will be installed.
The project commenced in 2015 and is estimated to take four years to complete. It will create jobs, boost the surrounding commercial precinct, and help keep Melbourne a tourist destination.
Besides, a business case is developing that will allow the Victorian Government to consider options to fix the old ballroom and other derelict parts of the building, to bring in new tenants and create an exciting commercial precinct.
The heritage works to be undertaken include:
repairing and restoring the façade and roof
making the building structurally sound
making the building watertight
conserving and stabilizing the building structure
restoring the heritage clock tower and heritage elements
repainting the building, consistent with heritage requirements.
Works to improve the station for passengers include:
improving access to the station precinct and between platforms, including addressing growing pedestrian congestion issues at the west end of the station
installing my next-generation equipment and additional myki readers
upgrading lighting and new passenger information displays
rebuilding toilet facilities
revamping ticket offices at the Flinders Street and Elizabeth Street entrances
installing a giant timetabling board facing Federation Square and the tram interchange.
Transforming Melbourne's Arts Precinct
Melbourne's arts precinct at Southbank has one of the highest concentrations of arts, cultural and creative organizations anywhere in the world –. It presents up to 3000 performances and exhibitions each year.
It's home to the most visited art gallery and busiest performing arts center in the country, the best art education and training institutions, art galleries, theatres, music venues, studios, creative co-working spaces and more.
The Melbourne Arts Precinct Transformation will introduce major new attractions such as NGV Contemporary – set to be Australia's most extensive gallery dedicated to contemporary art and design – as well as a new Australian Performing Arts Gallery and an expanded Australian Music Vault.
It will modernize Arts Centre Melbourne's Theatres Building – under our city's landmark spire – in its first major upgrade in 37 years, and create a new creative hub with spaces and facilities for Victoria's small to medium and independent arts sector.
Complementing the precinct's existing facilities will be 18,000 square meters of new and renewed open public space that will connect the iconic St Kilda Road cultural institutions to a world of new experiences behind them.
Melbourne Arts Precinct will be a place you can visit day or night to have a great time, soak up the atmosphere and have a distinctly Melbourne cultural experience – whether you have a ticket to a show or not.
Work is already underway on the first $208 million stages of this city-shaping project, including the purchase and allocation of critical sites for development. Plans and designs are expected to be completed by 2020.
Creating a world-class sports and events precinct
Melbourne Park will remain the home of the Australian Open until 2036, thanks to a $972 million transformation of this world-class sporting precinct.
The redevelopment of Melbourne Park aims to cater for the growing popularity of the Australian Open and to establish Melbourne and Olympic Parks as an unbeatable sports and events precinct.
The redevelopment places a strong emphasis on the comfort of patrons, with more open space and shade, increased seating capacity, better connections to public transport and the city, and more comfortable movement into and within the precinct.
Aside from the Australian Open, Melbourne and Olympic Park are one of the biggest sports and entertainment precincts in the world, hosting around 600 events and attracts more than two million people every year.
Development Victoria is working with Sport and Recreation Victoria, Melbourne and Olympic Parks and Tennis Australia to manage the redevelopment.
Want to know more? Visit https://bigbuild.vic.gov.au/